Consumer-led industries across the board are undergoing transformative shifts using AI, from predicting market trends to enhancing consumer experiences, and companies across the globe are gearing up and joining this evolving movement. Key questions often come up – Will AI replace the need for consumer research? Will AI replace researchers?
At Curion, we built our business on helping our clients better understand the choices and behaviors of their consumers. The question we seek to answer is not "How can we replace our consumers or researchers with AI?"; instead, we seek to understand how we can use AI to further our mission as an organization to better understand the consumer. AI helps us interpret human behavior at scale; it does not replace humans nor invent insights from nothing. Underlying the fanciest AI technology is human behavior. We are already experts in understanding human behavior and Curion is excited about the role of AI to help us continue to lead in this area.
A Crucial Piece Behind Curion's Future Vision: Elevating The Human Aspect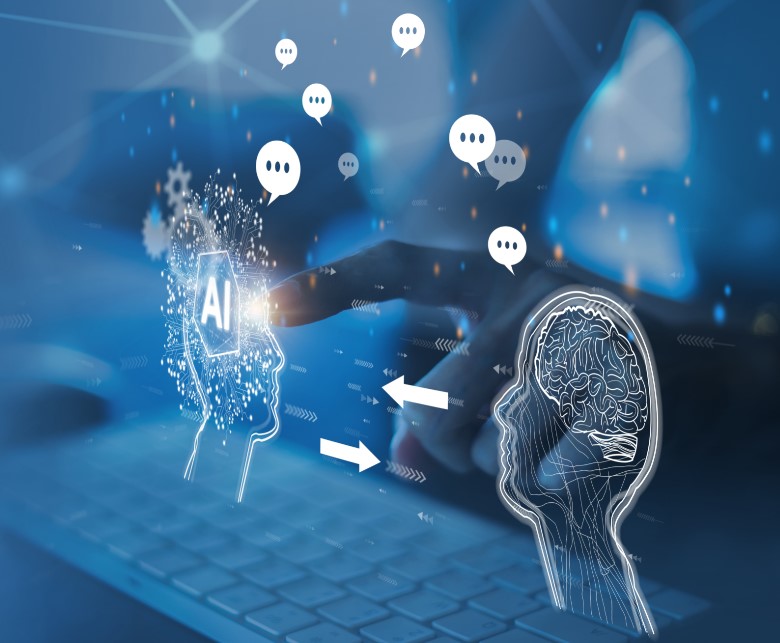 AI tools facilitate researcher understanding. Human involvement always has – and always will – remain critical in product testing. Human intuition ultimately determines when and how brands can change course and within large organizations, the role of intuition is not going away. Even the patterns AI finds itself are trained on human input. Because of this, for example, AI can suggest a change to improve a product, but the product developers and brand teams will decide the final direction and understand on a deeper level how it can truly impact its business. The human touch sees beyond the data to understand its meaning for the brand, and how it could shape success. This intricate mix of AI skills and human understanding ensures our product testing is not just about data – it is about making a real difference for our clients.
By elevating the human aspect through every step of product testing, Curion's goal is to leverage AI to bring clients closer than ever to their consumer – the expert product user. By incorporating AI into our research processes, we are making it easier and more cost-effective to connect with consumers through the ability to formulate more impactful questions, synthesize results and data into a crystal-clear understandable solution, and much more.
As we move into the future, Curion's vision remains clear — a synergy of human insights, complemented with AI intelligence to create a blended solution that opens doors to limitless possibilities. Curion is uniquely positioned to guide our clients, teams, and partners into the future, armed with the values that define us and backed by the power of AI.
The Curion Way: A Client-Centric Focus With Supportive AI Innovation
Curion is taking steps to combine AI efforts into everyday tasks to seamlessly bring solutions to our clients – faster and more efficiently. From enhancing creative thinking and reducing human error, to automating repetitive tasks and accelerating decision-making processes, we continue to explore AI across teams and division for multiple purposes.
Curion's approach to AI integration speaks of proactivity, strategic foresight, and a commitment to safeguarding client data and interests. Our teams at Curion have undergone training and awareness of appropriate uses of AI, including content optimization, general presentation preparations, streamlining customer service and support, industry trends analysis, open-ended question support, SEO improvements, and more.
With the mindset that AI is implemented as a supporting factor, led by the human touch, we have identified three key focus elements that will guide our exploration further into AI:
Dedicated Task Force: Our AI-focused task force is constantly navigating the landscape of AI trends and opportunities. This dedicated team is on a mission to explore new and viable applications and use cases that can improve product testing processes for our clients.
Continuous Learning Opportunities: We enter opportunities with the mindset and spirit of continuous learning on how AI can improve our processes and decrease costs for our clients. We engage in learning opportunities and understanding of new technologies for improvements in our product testing and processes, as well as understanding how our clients are leaning into AI.
Data Security Priority: At Curion, the security of our clients' data is non-negotiable. As AI evolves, data privacy becomes a fundamental element we must maintain. Our commitment to safeguarding sensitive information is firmly aligned with the foundation of trust we have built with our clients.
The way we think about AI and our approach to AI revolves around enhancing consumer connections with our clients. We prioritize the human element and consider AI as a supplemental tool designed to simplify connecting with consumers. We bring clients closer to their consumers and strive to maintain the human touch while using AI to facilitate seamless consumer engagement. We believe that consumers remain the ultimate experts, and our AI efforts are geared towards bringing clients closer to them, enacting easier solutions to communicate, ask better questions, and synthesize and display information.
The AI Edge for Product Testing
Using AI to enhance product testing strategies is the direction Curion is heading as we partner with and provide game-changing solutions for CPG brands. Imagine quickly customizing product tests for each product, meeting precise consumer expectations. According to Consumer Goods Technology, leading brands like Coca-Cola, Amazon, Colgate-Palmolive, Wayfair, and Albertsons are just a few that are forging new paths using AI. With various advantages to implementing AI, Curion's AI task force team continues to explore its many angles.
Enhanced Efficiency: AI helps streamline complex product testing procedures and detailed survey creations, accelerating the product journey from concept to shelf. This efficiency empowers brands to respond promptly to evolving market demands, allowing for a strong competitive edge.
Data-Driven Insights: AI's rapid analysis of data generates actionable and informed insights that pave the path toward improving products and enhancing performance. One of the most interesting areas to explore is "how" AI can enable more rapid synthesis of insights across multiple data sources and time periods.
Predictive Analytics: The predictive ability of AI helps anticipate market trends with sharper precision, including identifying gaps and white spaces. Armed with this foresight, brands can confidently strategize to ensure their products are aligned with current consumer preferences and positioned to meet future demands.
Personalization: Product testing approaches become customized and tailored to the unique characteristics of each product while also understanding consumer profiles for the product user, ensuring that the product testing process is focused on extracting the most relevant and accurate results.
Cost Savings: Streamlined product testing powered by AI leads to tangible cost savings. The reduction in time and resources required for product testing and deep insights analysis fast-tracks processes and optimizes resource allocation.
What's in the future for Curion's AI capabilities?
Curion is committed to carefully evolving and expanding our AI capabilities to better serve our clients and their consumers. We will continue to empower the human connection between clients and consumers, and the supporting AI will be seamlessly integrated into our decision-making processes and activities.
We continue to learn how our clients are leaning into AI, and how it can benefit their goals. It is fundamental to comprehend the client's path to AI, which models are being adopted, and why. Research validation, refining open-ended analysis, enhanced screening tools, and aggregated consumer preferences for speedy results are the tip of the iceberg.
Future use for AI at Curion can help in improving consumer recruiting, identify stellar consumer panelists for tests, enhancing final deliverables, generate more impactful questions that will result in actionable responses, synthesize data at a faster rate, and much more.
Our Final Thoughts
Curion believes in using AI to make product testing and understanding consumers more effective. We see AI as a valuable tool that can help us uncover important insights and trends in data. However, we also recognize the essential role of human intuition and judgment in decision-making.
While AI can provide data-driven insights, humans bring their unique perspectives, empathy, and understanding of culture to the table. Our approach combines the strengths of AI and human expertise to achieve the best results in product testing and consumer insights.
We continue to carefully embrace the AI wave with a blend of foresight, adaptability, and a strong commitment to putting our clients first.
About Curion:
Curion specializes in delivering impactful insights to the world's top CPG companies, helping them develop winning, repeatedly purchased products. Curion's deep data-driven product insights, sensory expertise, and state-of-the-art consumer centers enable them to uncover responses to critical client objectives. With over five decades of experience in the product testing industry, Curion is dedicated to guiding clients with their proprietary Product Experience and Performance (PXP™) platform, connecting brands to consumers at every step. An innovator in the industry, Curion recently developed a groundbreaking benchmarking product testing method, the Curion Score™, which has become a trusted and sought after tool within the industry. As one of the largest product and consumer insights companies in the U.S., Curion has built a reputation for excellence and trust among the world's leading consumer brands. Curion's commitment to innovation and expertise, coupled with a passion for delivering actionable insights, makes Curion a valuable partner for companies looking to develop and launch successful products.