In the world of CPG products, determining a product's success isn't just about its likability – it's about how well it performs in the market. For decades, the industry relied on the Overall Liking (OAL) metric as a standard measure of consumer preference. Curion recognized that what pleases consumers and what translates into sales aren't always synonymous. Enter Curion Score™ – a game-changing action standard that goes beyond traditional liking and reshapes how we understand product performance.
Divergence from the Traditional OAL Approach
The history and use of OAL in product testing dates back to the 1940s, and while it's still a valuable tool for comparisons within studies, it doesn't consistently predict sales outcomes. What's liked by consumers might not necessarily sell well, and vice versa. Curion Score™ was born out of the need to integrate the complex dynamics of liking and optimization, creating a new and inclusive way to assess product performance. Unlike traditional metrics, Curion Score™ offers a unique perspective on individual product and whole category performance that transcends the constraints of other metrics. This innovative approach provides the sensitivity needed to uncover opportunities and challenges with strong confidence of success.
The Power of Curion Score™: Reshaping Product Evaluation
The heart of Curion Score™ lies in its individualized, calculated nature. Through a series of normalization calculations, it seamlessly replaces traditional liking in analytical methods. This shift in interpretation – from "liking" to "product performance" – is pivotal in understanding how a product truly resonates with consumers.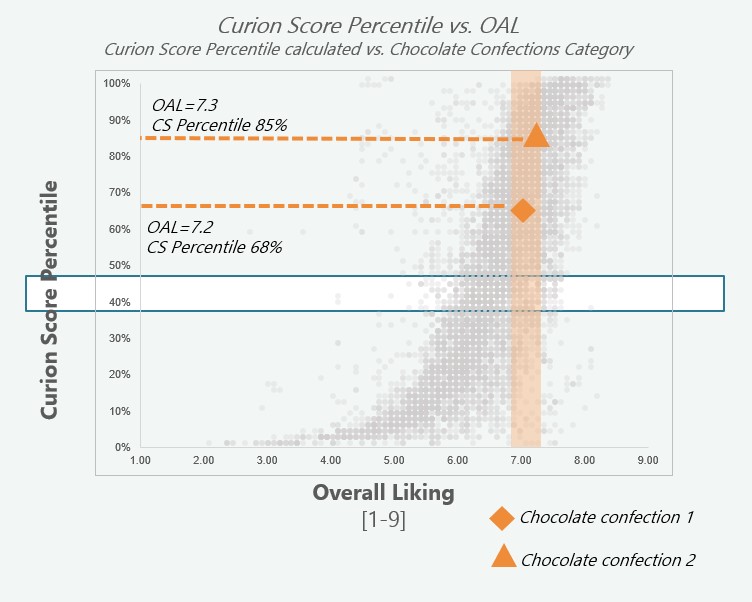 To illustrate a study's findings, it's evident that OAL results can't strongly distinguish products at the higher end of the likability spectrum. In this particular consumer study, two chocolate confections were tested and revealed a tight 0.1 OAL unit differentiation. However, with a Curion Score™ added into the assessment, stronger results shed light on a greater contrast. When measured against the category, the performance between the products stands at a substantial 68% versus 85% – this missing gap encompasses 17% of the entire chocolate confections category. The significance of Curion Score™ in this case unveiled nuances that OAL scores tend to mask, highlighting its potential to revolutionize product evaluation.
This powerful metric is applicable across numerous research scenarios, enabling brands to grasp consumer preferences at a deeper level and transforming it's purpose into an action standard that determines if a product is ready to launch and succeed.
Your Score Transforms The Market Space
As the business landscape continues to evolve, conventional metrics like OAL encounter limitations when applied to external validation and comparisons across various studies. Demands of businesses in the modern world are calling for a more comprehensive approach, utilizing the most research gathered in an inclusive and reliable approach. Curion Score™ offers reliability in benchmarking, a deeper understanding of product performance, and enhanced validity in statistical analyses. This action standard is the new optimal solution, with a strong grasp of product performance that will help products conquer the market. Curion Score™ isn't just a metric; it's a paradigm shift.
Kraft Heinz partnered with Curion during Pangborn 2023 to showcase scientific findings and the power of using a Curion Score™.
Visit our library of Scientific posters to download this and others
About Curion:
Curion specializes in delivering impactful insights to the world's top CPG companies, helping them develop winning, repeatedly purchased products. Curion's deep data-driven product insights, sensory expertise, and state-of-the-art consumer centers enable them to uncover responses to critical client objectives. With over five decades of experience in the product testing industry, Curion is dedicated to guiding clients with their proprietary Product Experience and Performance (PXP™) platform, connecting brands to consumers at every step. An innovator in the industry, Curion recently developed a groundbreaking benchmarking product testing method, the Curion Score™, which has become a trusted and sought after tool within the industry. As one of the largest product and consumer insights companies in the U.S., Curion has built a reputation for excellence and trust among the world's leading consumer brands. Curion's commitment to innovation and expertise, coupled with a passion for delivering actionable insights, makes Curion a valuable partner for companies looking to develop and launch successful products.