With changing mask mandates and varying social distancing requirements, we believe it is important to provide both updates about policies at our facilities and Curion's position on COVID safety. The health, safety and overall welfare of our consumers, clients and staff are of the utmost importance to us. We will post any updates or changes in our health safety policies on the Curion consumer portal as they occur.
It's no news that COVID-19 has greatly affected everyone the world over, and we understand there may be some concerns about participating in studies outside of the home. However, Curion is known for its standard of excellence, and we continue to enforce enhanced safety policies and procedures for your safety and ours.
Company-Wide Policy
All Curion staff members have agreed to comply with the company's Safety Policy and Wellness Attestation, which adheres to federal, state, and local guidance and public health agency recommendations and requirements to mitigate the transmission of the coronavirus (COVID-19) and other infectious diseases.

On-Site Safety
You'll notice many safety-related changes at our testing sites, from the lobby to our booths, kitchen and in our focus group rooms.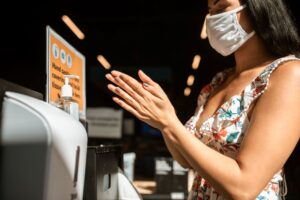 We are requiring all employees, respondents, and clients to wear masks while onsite.

 

Markers and signs have been placed throughout our facilities to indicate social distancing measures.

 

We have installed high-tech temperature scanners in entryways of our facilities to protect all visitors.

 

Additional staff have been hired to sanitize lobbies and restrooms between sessions.

 

Deep cleaning of all facilities occurs twice a week.

 

Disinfectant wipes have been installed throughout our lobbies, along with a protective shield at all front desk check-ins. Moving forward, satisfaction stands are now digitally available with QR codes.

 
Other Ways We Keep You Safe While Visiting a Curion Testing Facility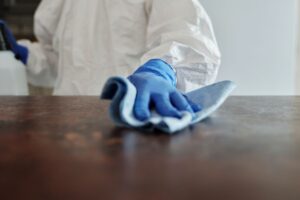 Extensive training was conducted for all facilities and kitchen staff during the rollout of our safety procedures. Sanitization of all kitchen surfaces, monitors, and keypads has been increased on an ongoing basis and between sessions, and all kitchen staff are required to wear protective gear that has been provided. 
Testing areas now undergo in-depth cleaning between sessions. Staff have been trained to meticulously clean and disinfect keyboards, iPads, chairs, and all booth surfaces. At each booth station, bottled water, wipe packets, a wrapped cracker and disposable stylus for iPads where needed are provided. Additionally, a plexiglass extension has been installed in each booth to provide further separation between respondents, beyond our current booth walls. 
More, we continue to work closely with Curion's certified partner facilities to maintain the highest level of safety possible. It is a responsibility that we own as a company, and which extends to all our facilities, clients, and Consumers. We look forward to seeing you at your next paid research study!